It's been fun, to say the least!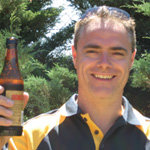 A quick reminder that the AGM is on tomorrow night and will be held at Amber Craft Beer in Hawthorn.
You'll probably be aware that I've chosen to make myself unavailable for election as club President this year.
In order to make sure I don't get trapped into the role due to no other expressions of interest, I've taken what I believe is an unprecedented step to ensure that succession occurs, by forcibly detaching my right bicep from the bone. This now requires that I spend tomorrow night in hospital recovering from surgery to have it reattached, rather than spending it with you good folks over some great beers. Show me that sort of commitment from any other President 🙂
My time as President has been very rewarding, with highs and lows. The early years were exceptional, with the club growing to its largest numbers by around my second year, and participation at competitions and social events resulting in our recognition as Melbourne's largest and most prominent club. That combined with what was at the time an innovative and vibrant web presence made us a force to be reckoned with.
That had the unfortunate side effect of stirring up the slumbering beast in the other clubs, in particular Bayside and Westgate who both lifted their games considerably to keep pace, and now I can almost proudly say to have overtaken us.
It was also exciting to be a part of the creation of the Merri Mashers. Many of you will know that the seeds of that club in fact came from brewers from our club who lived in the inner Northern suburbs.A few conversations with some of them resulted in my suggestion that there would be real value in kicking off a club in the Inner North. And so, with a hell of a lot of work on their part, the Merri Mashers was born, and so yet more of our members left, and we dropped further down the ladder. Oh crap - I'm detecting a pattern...
But this is actually an important part of being a president. Yes, running our club is important, but being an active part in a growing, healthy homebrewing community outside of the club is probably more important. As this community grows, so too does the opportunity to gather new members into our folds and take the club in new and exciting directions.The small investment I made in Hobart's homebrewing scene has had a similar effect, resulting in the creation of their first homebrewing club and the running of the first Tasmanian State Championship.
I'm going to continue to work in this way, to grow our community outside our club walls, so you'll definitely be hearing from me (possibly more than before...?). That's going to be a fun journey as we get ANHC 2018 ready to show off Melbourne's homebrewing scene once again, and probably announce a little side project we've got bubbling in the background to help give our growing community a bit of a kick-along.
I'm also planning to step up my brewing and being a more passive member of the club. And (assuming someone will nominate me) I'll stay on the committee as an ordinary member to help smooth the transition. So I'll be around for those who are worried they'll miss me (and even those who wo'nt - Guenzel ? 🙂 )
In the meantime, it's time for someone else to take on the illustrious mantle I've proudly worn for so many years now - President of Australia's oldest (and arguably most important and prestigious) homebrewing club, the Melbourne Brewers. Hold that high folks, wear it proud and we'll go on for a long time to come!
Signing off as el Presidente for the last time,
Andy
---