The Newsletter, June 2019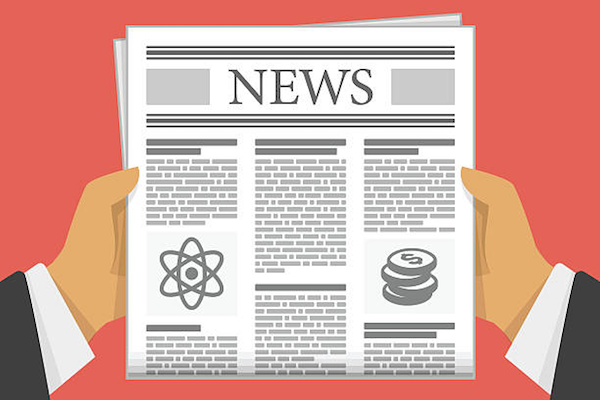 Presidents report.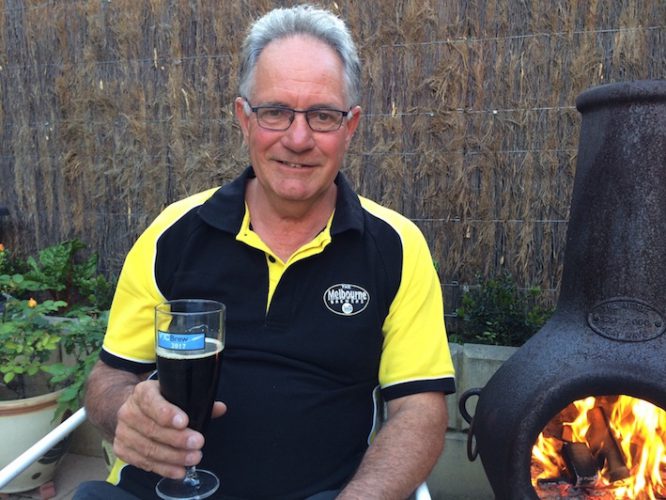 Our June meeting is right upon us, and from a club point of view this month's meeting is an important one for The Melbourne Brewers. Our annual meeting will be conducted.
We have spoken openly about members getting involved in the decision making and direction of the club. There are positions available that need to be filled, so if you are inclined, let it be known.
The BYO magazines have arrived and will be available for collection for paid up members.
Memberships are also due as we move into a new financial year.
Remember to keep the date for the dinner available on August. 31st at William Angliss, the same venue as last year.
Hope to see as many as possible along at the warehouse this Wednesday.
Ian Bennett
President
The next meeting, 26th June.
Is the Annual General Meeting and will be back once again at Petes warehouse in Ferntree Gully.
AGM 26th of June.  
The AGM is coming around again and the committee needs new blood. Come get involved and help shape the club. It's a great fun way to add your input and be more involved. Anyone is welcome and encouraged.

Brewer of the month.
This months brewer is...Diamond Papazoglou
Tell us a little about who you are.
I'm married to Cathy, with two kids, Ella 9 and Charlie 6.  We live on an acre in Olinda.  One dog. Eight beer-grain lovin chooks.  I mostly work from home, currently on a yawn maintenance yaaawn project preparing for aaaaarrgh a 2021 shutdown of an acid plant Zzzzz. A dull period in my career but a really fun part of my life - young kids, great hills community etc. I'm currently planning a MountainTop brew fest - Oct 13 - as a fun new school fundraiser. No cake stalls.  Slightly more exciting than vanadium pentoxide catalyst.
2018.  I joined so I could improve my brewing, from brew day skills through recipe design.  I enjoy the diversity in the club - those who admit they just like having a beer with a group of fellow home brewers to those who like to dive deep and enjoy experimenting with new methods - and sharing their successes and failures.
2008.  My wife and I had just moved to Salt Lake City for "1 year", and I fell in love with American craft beer ... prices. The first decent beer I made was inspired by Traquair House ale (wee heavy); it was $5 in the State Liquor Store where great domestic craft beers were only $2.  I've been losing money ever since (or, at best, labouring for $1 per hour).
Started with extract/specialty grains and graduated to all-grain (robobrew) a couple of years ago.
Around 50 batches of all-grain over the past two years on top of the 20 or so extract batches in my first eight years of brewing. My next batch will be kegged for the MountainTopBrewFest. Oct 13.
IPA - a forgiving style but when done well it's very rewarding.
APA.
The Traquir House ale is still up there. But I was recently blown away by the Hargreaves Hill XPA (on tap).
Robobrew v3.
The crappy pulley I set up above my robo brew. My most recent proud addition is a $7 pocket scale for measuring brewing salts and hops, down to 0.1g precision.
My (toughest critic, my) wife choosing my beer over good craft beer in a blind beer-choice last week (I wanted the craft beer so it was win win).
My wife saying "corrr, yuk, why did you make me drink that?!" A (really really) bad Hefeweizen.
Public in Croydon. It is close-ish and approved by the kids.
For a more relaxed and mistake-proof brew day, get all your ingredients & equipment laid out and clean the days before; keep a minimalist check list that covers typical brew day mistakes or omissions (eg campden tab, whirlfloc). And don't believe everything you read on online forums!
It's a bit like golf.  I'm a (lapsed) hack golfer who's had one hole in one, one eagle and a few birdies.  The "wow" moments were great, but I played my 100+ game because every hit had the potential to be great.  Brewing is kind of the same.  It's not how many balls or brews get lost/dumped in the bush, it's how you play the game.
Sneaking out to the brewery to prepare for the next brew day. And wrestling with kids, building random stuff with / for them, playing or being the playground.
Planning the MountainTopBrewFest (please get in touch 0491219683 if you'd like to contribute a keg. Really good peoples choice and judges choice awards!)
The Annual Dinner, 2019. 
The date is set, 31st of August at William Angliss in the city.
After party nearby but still to be determined where.
Beerfest 2019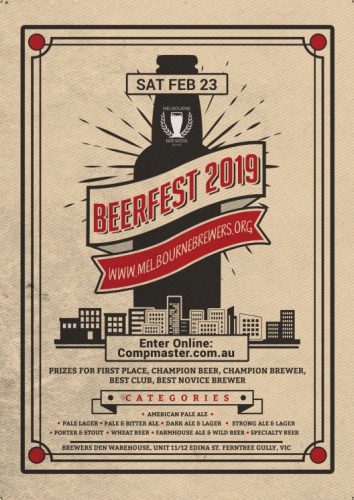 Our sponsors  put up some fantastic prizes this year in support of the Home Brewing Community. Lets show them some love back and get   behind them when you next do your shopping or recommend a store to a new brewer. It's these sponsors that keep our competitions running so lets return the favour and support them any way you can!
Major Sponsors:
_________
The Old Dick.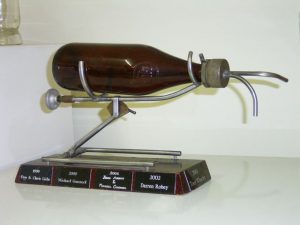 Since 1999, the Club Brewer of the Year trophy has been an unusual mechanical device, affectionately known as "The Old Dick".
The trophy was built about 22 years ago by former Member Dick Seville who was a popular and eccentric Member of the Melbourne Brewers and the ABAV which preceded it. "The Old Dick" is designed to hold a 750ml bottle of beer and to gradually tilt it in order to pour the contents without disturbing the sediment, thereby obtaining a crystal clear beer.
Dick an engineer by trade would regularly take the device with him when dining at BYO restaurants and drinking his own beers, mostly bottle conditioned brown ales.
Longstanding Members will remember Dick as the quietly spoken gentleman who would bring a large plate of cheese and onion sandwiches to every club meeting which would be unveiled late at each meeting after the standard Club nibbles had been consumed. These would rapidly be devoured and were a traditional part of Club meetings for many years.
Dick was an inventive guy having a hand in building one of the first commercial washing machines ever built in Australia. Unfortunately, Dick passed away several years ago but much of his brewing equipment was donated and subsequently auctioned by the Club so many current Members have equipment designed and built by Dick and his legacy lives on.
The Old Dick was donated by Dick's family and Colin Penrose. So next time you see "The Old Dick" remember that it, like our Club, has a rich history built on the efforts of eccentric good blokes like Dick Seville.
The Old Dick is a prestigious award given to the Club Brewer of the Year, based on all the members points tallied from all competitions entered. First, Second and Third all generate points to determine who gets to be this years Brewer of the Year.
Membership.
The club's preferred method of payment is online.
Your membership comes with these great benefits plus many others so support the club and help keep it going.
Things to keep you busy.
Get a brew happening for:
31st August, The Annual Dinner.
October internal comp on Lagers.
October, Baysides Oktoberfest.
Go to our Calendar and sync it with your own so you never miss an event.
Get some reading done after you buy some books through our book depository link.
Last but far from least, help keep the Club alive and don't forget to pay your membership fees for this financial year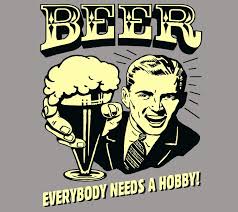 ---