The Half Pint 23-04-2017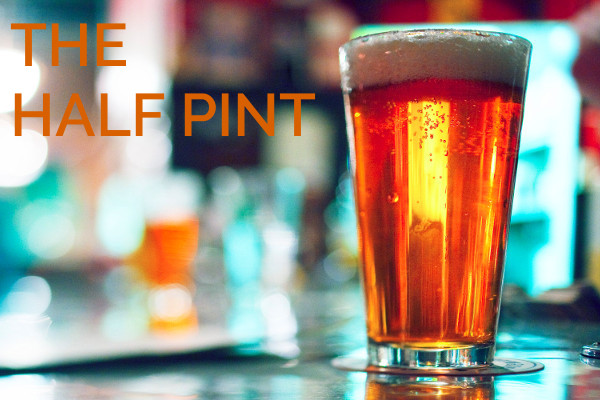 News this issue:
April Club Meeting - meet the brewer

Steinbrew - this weekend!

Get Your Kit Off - get brewing for June!
April Club Meeting - 26th April, 2017

This month there is a change of venue - we will be meeting at Amber Craft Beer in Hawthorn. Richard's hosting us this month, and we have a special guest coming along - Lein Jenkins will be coming along to talk about his latest baby - no, not his 2nd baby girl, but their new Caltoria Brewery ! Unfortunately we'll miss the launch of his beer at Amber (happening the week after we visit), but I'm sure a lot of us will make the extra trek out to try the beer the following week.
We're also going to run an evaluation of a beer that Richard's putting on specially as a follow-up to Andy's presentation on judging skills last month. We'll be focusing on building up a good description of the beer, without any knowledge of the style of beer. Should be a bit of fun!
Steinbrew - 29-30th April
Get your camping gear ready for next weekend, because we're on our way out to Major Creek again near Mitchellstown - here's a map...

Travel
It's about a 90 minute drive up the Hume, just north of Seymour. The roads are good, with easy access for all car types - just keep out of anything that looks like a puddle... they are in fact 4WD swallowing ruts.
Once you're on the Mitchellstown Rd, drive until you hit the gravel, then continue around and over the Major Creek bridge. Then enter the site at the first driveway on the right and keep moving along until you find us.
Andy was there with his family last weekend, and has given us a short paddling video to wet our appetite! Check it out here
The river is great for paddling and fishing, and you can drop a small boat into the water at the rivers edge (4WD only though!). Andy and Tristan will be there late Friday afternoon to secure a camp site.
Weather
It looks like a cloudy weekend, but it seems like we'll be clear of rain. Make sure you bring some warm gear - it was pretty cool up there last weekend!
Brewing
Brewing will be a two teamed effort, with Chris teaming up with Ed Svalbe, and Linton and I making up a Dynamic Duo to produce two steinbrew beers for this year's annual dinner. Come along and be a part of the calamity - we mean fun!
Get Your Kit Off for the June Meeting!
We're running the "Get Your Kit Off" competition again, and the judging will be in June. The rules are:
Must use a can of pre-hopped Malt extract in its entirety (aka a Coopers 1.7kilo can)
Can use any yeast, feel free to throw the supplied foil packet into the bin!
No 3 kilo cans, still no exceptions to this, only to keep your brewday interesting
two-can batches are now allowed. Only because the IBU are significantly different to a 3KG tin and can be slightly harder to work with

.

OG is open. No limits this year
IBU is open. No limits this year
other fermentables a can be whatever you choose. E.g. Apples, cider kit, LME, DME, full mash, grain steep, sour mash, sweet potato, cornflakes, bread, vegetable scraps WHATEVER WORKS!
NO MORE RULES. Feel free to be as whacky as you wish or as boring as a mild made with a brown ale tin thinned out to 1.035OG with tin supplied yeast.
---