Steinbrew 2017 is on this weekend!
TLDR; We'll be rivaling the fires of Hades at the Major Creek Campsite this weekend... feel free to join us - bring a tent, food, water and lots of warm, dry stuff...
Where: Major Creek Riverside Camp (map)
When: Friday 28th April - Sunday 30th April, 2017
It's on for young and old in Mitchellstown this weekend, as the Melbourne Brewers gather for their annual "Back to Tradition" Steinbrew weekend at the Major Creek Riverside camp.
The beer
If you don't know what a Steinbrew is, don't be surprised - in recent years I know of only one commercial example that has been produced locally, and hats off to Brad Rogers from Stone & Wood brewing for embarking on the project to bring the style into popular rotation again. Google isn't hugely helpful, with references to some of the commercial examples, lots of hits for Stone Brewing company (not a bad thing), but little in the way of information on this ancient art. One of the good descriptions comes from BYO, and you can find the article online here (BTW - if you join our club, you get a free subscription to the BYO magazine as part of the package!)
In short, we spend time finding heaps of dead wood to fuel a raging fire, into which we put cubes of bluestone or granite to let them get white hot. In the meantime, we prepare a wort in the traditional manner (albeit atop Han's makeshift pot-belly stove). Once we have a good batch of wort, we then dip the white-hot rocks into the wort to achieve the boil. But these rocks are so hot they have an added effect - on the sharp corners they're extra hot and this additional heat gives rise to true caramelisation, with the sugars then going back into solution in the wort.
What we're left with is a rich, malty brew with a slight mineral flavour that's quite unique.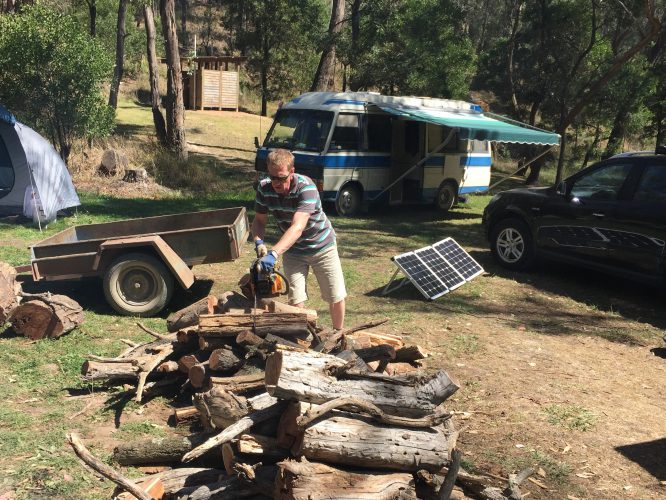 The Venue
Access to the site is via Wattlevale Road, which is an extension of Mitchellstown Road. The easiest way in is off the Goulburn Valley Highway (See the map below). Access is fine for all types of vehicles with care - there are ruts in the road with a mix of puddles and black good, both of which eat cars (and thongs), so please stick to the flat roads coming through.
There are long drop toilets - but that's all. You will need to bring your own TP, and a good supply of water.
Activities Nearby
Major Creek riverside camp is a huge campsite next to the ample Major Creek. Backing onto the Puckapunyal Army training facility, there's not much in the way of bush walking, but the creek feeds into the Goulburn River and is a great location for swimming, kayaking, fishing and generally lazing about a fireplace keeping warm. The creek heads upstream to a looped cul de sac, making for some great adventures for the kids.
For the adults, it's a short bike ride around to Michelston Winery, and a slightly longer one around to Tabilk. The kids will love the wide open spaces at Michelston while we sample a few wines.
Getting there
Here's a map with a route from Melbourne 

And a bit closer in shows the route off the Goulburn Valley Hwy...

---