The Newsletter, May 2020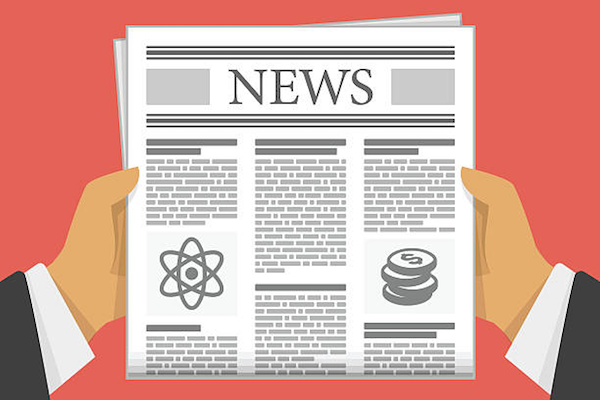 Presidents report. 
No need for me to tell you that we are suddenly in interesting and challenging times that will make life difficult for many of us in the community.
We've heard lots of varying and contrasting information that confused the best of us. However, having just returned from overseas it reinforces the need to make readjustments to our daily life to minimise our exposure to ensure our families future.
Due to Government sanctions, regular meetings of the brew club will cease immediately and recommence when safe to do so.
Since our last newsletter we successfully ran Beerfest. A big thank you to Keg King for hosting their venue for our competition.
Congratulations to those that placed in the various categories in our competition, and it was significant that Melbourne Brewers came away with the title of Club of Show.
The prize for that title is the Cryer Malt package which includes a number of 25kg sacks of grain that will be shared around to our members. The expectation will be to submit an entry into our in-house SMASH brew competition to be held later in the year. Grain distribution and details to follow once the club is back up and running with the normal monthly meetings.
Those that helped win Club of Show:
Pale Ale 1st Darren Zhou   3rd Ian Bennett
Brown Ale 1st Hayden Henderson
European Wild Ales 1st Hayden Henderson
Mixed Fermentation 1st Hayden Henderson
Speciality 2nd Diamond Papazouglou
Hayden Henderson also took out Champion Brewer. Well done Hayden you are certainly on a roll lately.  The prize for that title is the Grain and Grape package and the opportunity to brew in collaboration with Hard Road Brewery and have it on tap in their brewery.
Interesting to note that Merri Mashers IPA Comp, Yarra Valley Brewers Belgian Competition, Westgate Brewers Stout Extravaganza and the Australian National homebrew conference have all been cancelled. We were extremely lucky to have been able to run our Beerfest which is likely to be the only beer competition for the year.
Steinbrew was held recently at Nagambie. Darren Zhou brewed a Pastry Stout for the dinner and again those who attended had a great time.
Personally, I have had a couple of weeks in London. This exposed me to a number of new craft beer experiences.
London Amateur Brewing Club welcomed me to their Lager Home Brew competition.
"Lager than Life" was held in cramped conditions at Pillars Brewery located in Walthamstow East London. Pillars is London's first Lager craft brewery. They are wanting to dispel the notion that is created by the commercial breweries that most people find lagers to be boring tasteless beers.
There were 90 beers judged in a variety of categories and all fermented with a lager yeast. Other than what you would expect in the normal categories there were Rauchbiers, Porters and fruit beers including a cucumber lager.
What was intriguing was that each flight was judged as per BJCP as we would to determine a winner by the points awarded. But they then re- tasted the top 5 beers for each category to determine the beer of show for that category against each other. Not by the score sheet but up against each other and awarded 1st, 2nd, and 3rd .
An up and coming trend in the UK is for a business to set up what they call a micro- brewery in the local high street.
Basically, it's a shop front set up as a beer shop where you call in and have a pint or two of what is on tap. There is not a lot of room in these shops, but it creates a cosy and enjoyable atmosphere.
Usually there is a choice of 6 or more craft beers are on tap, poured from 72 pint kegs. Depending on the establishment it is a gravity feed providing "flat" beer or carb forced to to have some carbonation in the glass. The locals enjoy quality craft beers usually sourced from a number of different craft breweries from the area.
Hopefully you remain virus free and hopefully it won't be too long before we can reconvene as a club. In the meantime, self-isolation should give us plenty of time to lay down a few brews of our own.
Cheers,
Ian Bennett President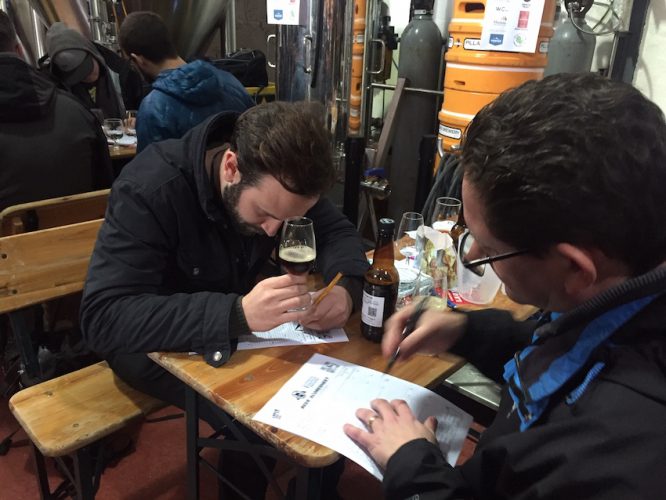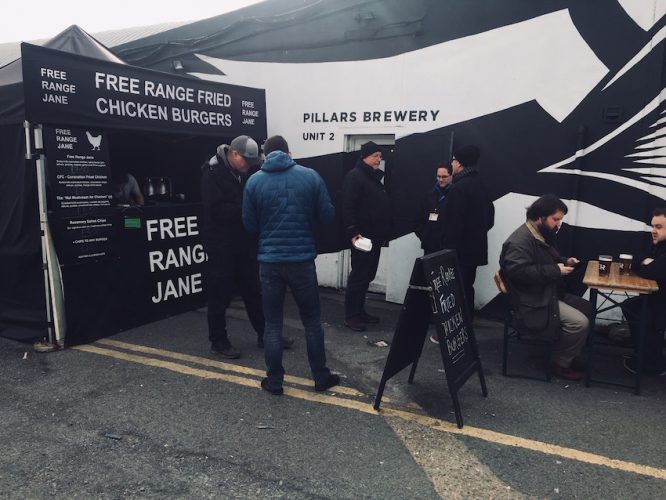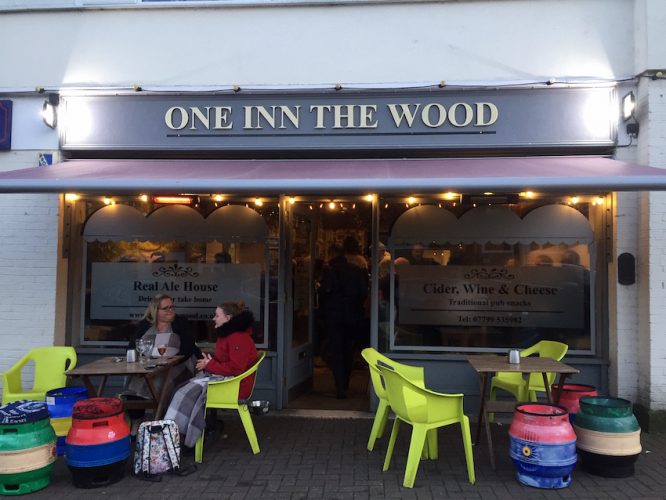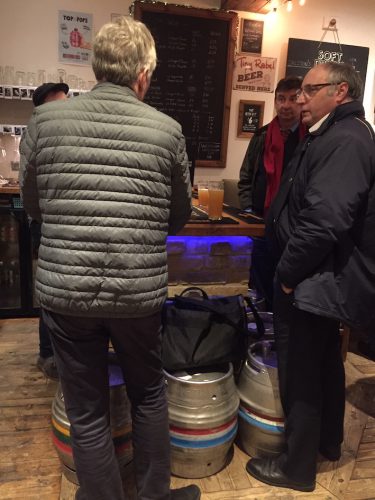 The next meeting, 27th of May. 
 Mays meeting will be held online via zoom again with normal member contributions plus Dermott from Beerco will be giving a guest chat. He'll be giving an update on how the current conditions have impacted sales and what they're doing to overcome the current conditions.
Steinbrew.


Beerfest 2020.

Our sponsors  put up some fantastic prizes this year in support of the Home Brewing Community. Lets show them some love back and get   behind them when you next do your shopping or recommend a store to a new brewer. It's these sponsors that keep our competitions running so lets return the favour and support them any way you can!
Major Sponsors.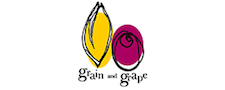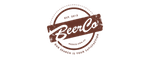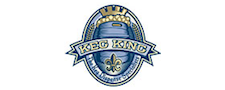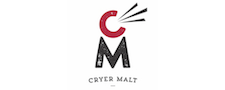 Category Sponsors.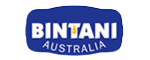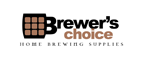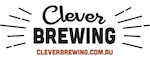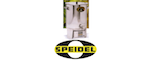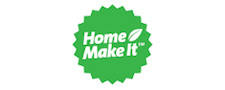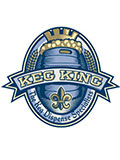 Club News.
The Club is planning a case swap in Easter, register your interest.
The Old Dick.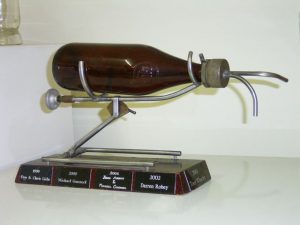 Since 1999, the Club Brewer of the Year trophy has been an unusual mechanical device, affectionately known as "The Old Dick".
The trophy was built about 22 years ago by former Member Dick Seville who was a popular and eccentric Member of the Melbourne Brewers and the ABAV which preceded it. "The Old Dick" is designed to hold a 750ml bottle of beer and to gradually tilt it in order to pour the contents without disturbing the sediment, thereby obtaining a crystal clear beer.
Dick an engineer by trade would regularly take the device with him when dining at BYO restaurants and drinking his own beers, mostly bottle conditioned brown ales.
Longstanding Members will remember Dick as the quietly spoken gentleman who would bring a large plate of cheese and onion sandwiches to every club meeting which would be unveiled late at each meeting after the standard Club nibbles had been consumed. These would rapidly be devoured and were a traditional part of Club meetings for many years.
Dick was an inventive guy having a hand in building one of the first commercial washing machines ever built in Australia. Unfortunately, Dick passed away several years ago but much of his brewing equipment was donated and subsequently auctioned by the Club so many current Members have equipment designed and built by Dick and his legacy lives on.
The Old Dick was donated by Dick's family and Colin Penrose. So next time you see "The Old Dick" remember that it, like our Club, has a rich history built on the efforts of eccentric good blokes like Dick Seville.
The Old Dick is a prestigious award given to the Club Brewer of the Year, based on all the members points tallied from all competitions entered. First, Second and Third all generate points to determine who gets to be this years Brewer of the Year.
Membership.
The club's preferred method of payment is online. http://melbournebrewers.org/register/melbourne-brewers-membership-2018-2019/ New members: If you believe you are not on the club mailing list, send the committee an email or bring it up with someone at a meeting to make sure we add you in.
Your membership comes with these great benefits plus many others so support the club and help keep it going.BYO Magazine  All members receive the BYO magazine as part of their yearly subscription.
(This is a great saving over an individual subscription)
Monthly Meetings
Meetings are held on the last Wednesday of each month at different locations. They are a great place to socialise, listen to talks, participate in Club competitions, BBQ's and of course taste lots of beer plus many other things.
Communications
A monthly newsletter outlining upcoming Club events and competitions as well as general Melbourne Brewers information and photos.  This gets distributed by email a few days before Club meetings.
Members are also advised of upcoming events by email. Our member email distribution is also used as a forum to discuss topics of interest and to provide brewing information amongst members.
Brew Days Periodically, Members volunteer to have a Brew Day at their brewery and invite Club Members or guys who may be interested in brewing to have a look at how they brew, equipment used etc. Brew Days are a good way for novice brewers to learn how to make all-grain beer.
Activity Days Every so often, days are organised for a group of members to build or assemble equipment e.g. convert kegs to boilers, make immersion chillers, yeast stir-plates, counter pressure bottle fillers, temperature controllers.
Events & Excursions Periodically the Club organises events/trips e.g. trip to Maltings, Melbourne microbreweries, weekends away at country pubs, fishing trip.
Annual Club events include the Annual Dinner, Xmas party, Steinbeer weekend and Beerfest weekend (Club run comp).
Club Buys Club buys (Bulk buys) of equipment offer significant savings to members.
Club Library There is a large range of brewing books and equipment available for loan by members.
Things to keep you busy.
Go to our Calendar and sync it with your own so you never miss an event.
Get some reading done after you buy some books through our book depository link.
Last but far from least, help keep the Club alive and don't forget to pay your membership fees for this financial year.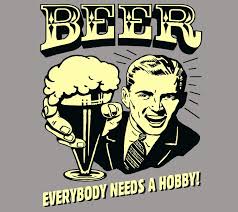 ---