Hop Nation 18-04-2017
Members,
I recently had a friend's child's first birthday to attend and it was held at none other than Hop nation! (Yes you read that right, a kid's fist birthday at a brewery, just my luck!)  The brewery is situated in an old warehouse estate on Whitehall St in Footscray, just a stones throw from Grain and Grape.  You can easily access Hop Nation on foot from Footscray or Seddon Station (a 50m difference in walk between the stations).  There is also plenty of parking in nearby streets if you have a designated driver. (luckily I did for the trip home!)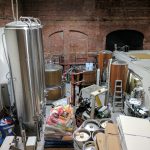 If you enter the industrial estate via Whitehall St its a short walk down the main entrance and you will eventually stumble upon the brewery with a signboard out the front.  The warehouse footprint isn't much Larger than Pete's warehouse (where we hold most of our club meetings) and has a ground floor bar and seating as well as an elevated area which overlooks the brewery space. As you can see from the photos, it's pretty tight!
From my understanding and as per the brewery's name, Hop Nation's core range are pretty hop driven beers. American Pale/IPA/IRA/ISA and a hoppy pilsner just to name a few. Hop nation are also operating a barrel program and the largest cask in the picture shown was chalked up with WY3763.  This is none other than the famous Roeselare blend.  I questioned one of the bar staff who advised the brown ale within is tasting pretty great and they had recently pulled 50L for a coffee sour which emptied as quickly as it could be filled.  There will be another variation of the beer on the next draw coming soon.  Keep your eyes peeled!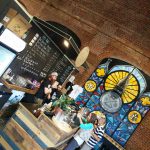 The bar has the core range of beers as well as a handful of seasonal rotations.  On the day, the pick of the litter was a Kettle soured dark ale aged with morello cherries.  It had all the malt flavours of a Flanders brown, lactic sourness with delicate hints of peat smoke and morello cherry, simply sublime.
Hop nation is open from Friday - Sunday at the time of writing and is highly recommended for the beers on tap, relaxing atmosphere, music as well as the rotating food trucks on location for meals.
Cheers,
Braden
---